Do you want to add a bit of mystery and excitement to your night out? Look no further than the city's hidden gem of secret bars and speakeasies. These intimate venues offer a unique experience for those looking for something different and exclusive.
Las Vegas Speakeasies and Top Secret Hidden Bars
From hidden doors behind bookshelves to password-protected entrances, these speakeasies are the perfect spot for a clandestine rendezvous or a night out with friends. So, put on your best 1920s outfit and get ready for a night of mystery and excitement at the best secret bars and speakeasies in Las Vegas.
The Underground at The Mob Museum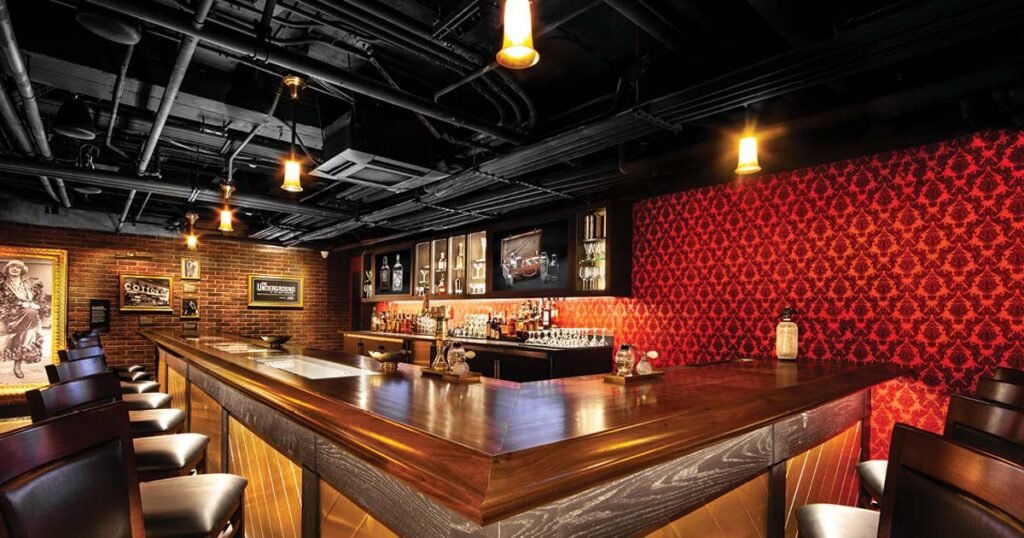 Looking for a speakeasy with a real sense of history? Look no further than The Underground at The Mob Museum in Las Vegas. This hidden gem is located in the basement of the Mob Museum, giving it a unique and authentic Prohibition-era feel. Guests enter by ringing a bell and providing a password, adding to the sense of secrecy and adventure. Once inside, they are transported back in time with Art Deco design, a working distillery, and artifacts from the 1920s.
But The Underground isn't just a museum exhibit – it's a fully functioning speakeasy, complete with classic cocktails, moonshine, and live jazz music. The bar offers a hand-crafted cocktail menu and shareable bites, making it the perfect spot for a night out with friends. And while you're sipping on your drink, be sure to check out the informative and entertaining exhibits, videos, and artifacts that tell the stories of the Roaring Twenties and the rise of flappers, jazz, and the Mob. So if you're looking for a speakeasy experience that's both educational and entertaining, head to The Underground at The Mob Museum.
Location: 300 Stewart Avenue Las Vegas, NV 89101 – 702.229.2734
Mike Morey's Sip'n'Tip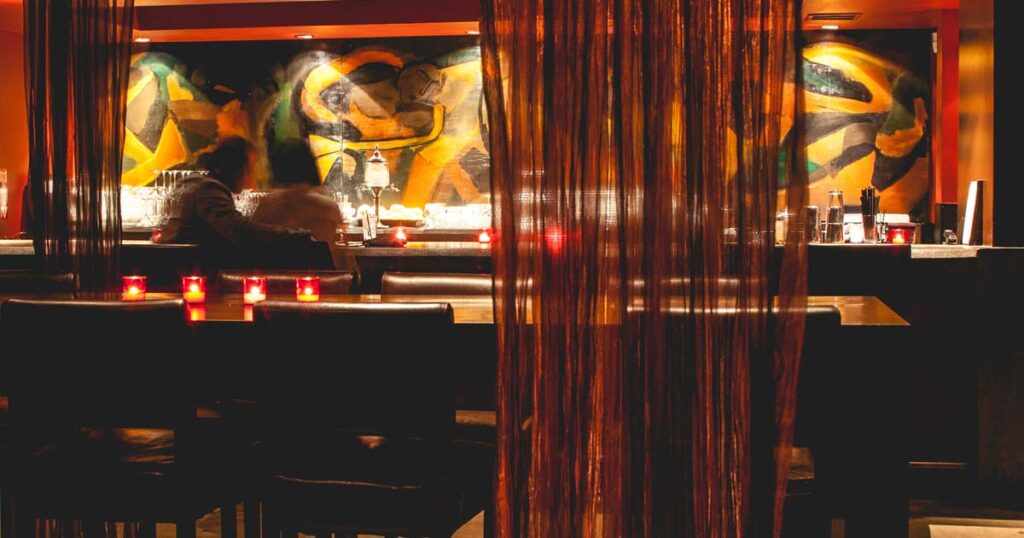 If you're in the mood for an off-the-beaten-path bar experience, look no further than Mike Morey's Sip'n'Tip. Nestled in a discreet alleyway between Sixth Street and Las Vegas Boulevard, this intimate speakeasy offers a simple yet charming space to enjoy drinks with friends. With its low-key atmosphere, jukebox, and $3 PBR pints, Sip'n'Tip has a true dive bar feel that's both relaxed and unpretentious. And if that's not enough to entice you, it also offers the best happy hour in Las Vegas from 5pm to 8pm Tuesday through Saturday.
Attached to the swanky Downtown Cocktail Room by a curtained doorway, Mike Morey's Sip'n'Tip has a completely different aesthetic, with blueish mood lighting and a speakeasy feel. But don't let its discreet location fool you – it's well worth the visit. The service is top-notch, the prices are reasonable, and the intimate setting makes it the perfect spot for a date or a night out with friends. And with Downtown Cocktail Room's reputation as Las Vegas' original, most prominent, and respected cocktail bar, you know you're in good hands.
The Laundry Room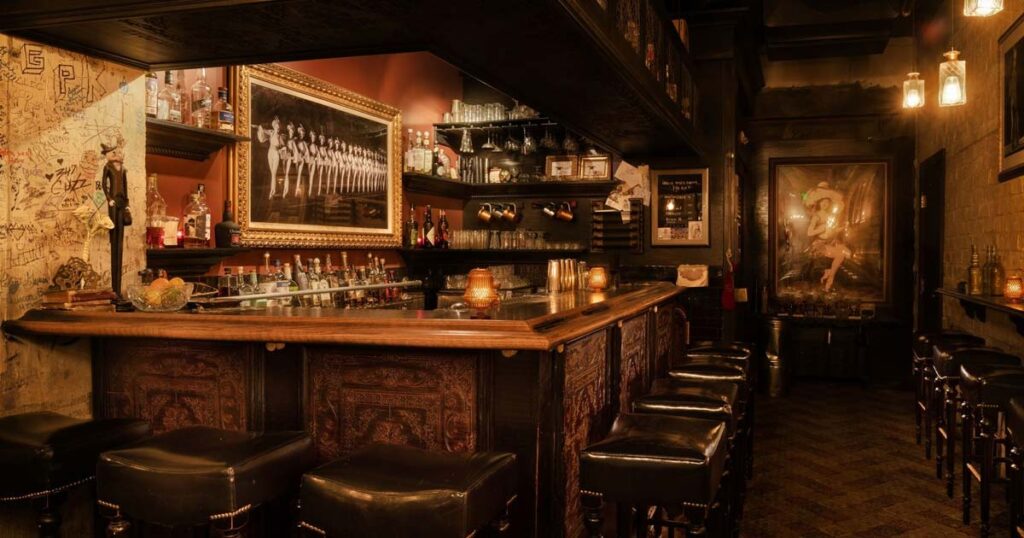 If you're up for an adventure and a touch of mystery, head to The Laundry Room, hidden within Commonwealth in Las Vegas. With a door that's slightly hidden on one wall, you'll need to wait for the host or hostess to lead you into the speakeasy, where you'll be asked to behave like a true lady or gentleman. The space itself is small and intimate, but that's all part of the charm. The bar's unique check-in process adds to the anticipation, and the staff provides a quick and informative overview before you enter. This is no ordinary bar – the people here truly understand the art of making drinks and creating a classy and comfortable environment.
The Barbershop Cuts and Cocktails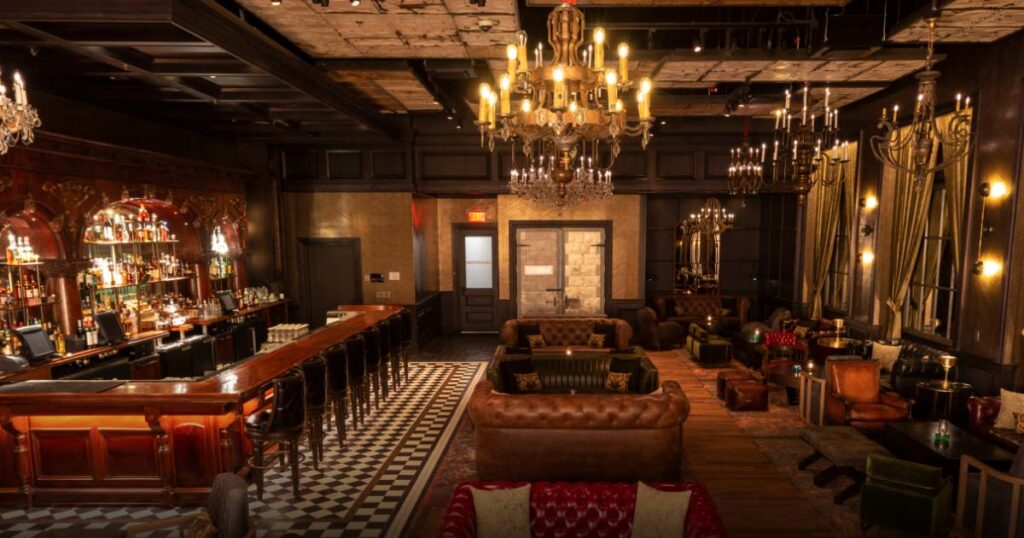 Step back in time and get transported back to the Prohibition era at The Barbershop Cuts and Cocktails, a hidden gem tucked away inside the Cosmopolitan of Las Vegas. From the outside, it looks like an unassuming vintage barbershop, but beyond the janitor door lies a stunningly decorated parlor that combines the nostalgia of the past with modern-day luxury. Think swanky couches, plush furnishings, and an impressive collection of rare whiskey bottles.
But The Barbershop isn't just a pretty face. It's also a fully functioning barbershop where you can get a classic straight razor shave or a dapper haircut from some of the most renowned barbers in the area. And when you're done, head over to the bar for a refreshing cocktail, a cold draft beer, or a pour of the finest whiskey.
As you sip your drink and soak in the atmosphere, the live music will transport you back to a time when whiskey and liquor were king, and word of mouth was gold. . The Barbershop is a throwback to a bygone era, combining equal parts form and function.
The entry to The Barbershop is elusive and secretive, just like in the Prohibition era. But once you're inside, you'll feel right at home, surrounded by the warm ambiance and friendly staff. This isn't your typical speakeasy with false fronts and hidden rooms. It's a concept bar that's both stylish and functional, a perfect fusion of form and function. So come for the cuts, stay for the cocktails, and experience a piece of Las Vegas.
Beauty & Essex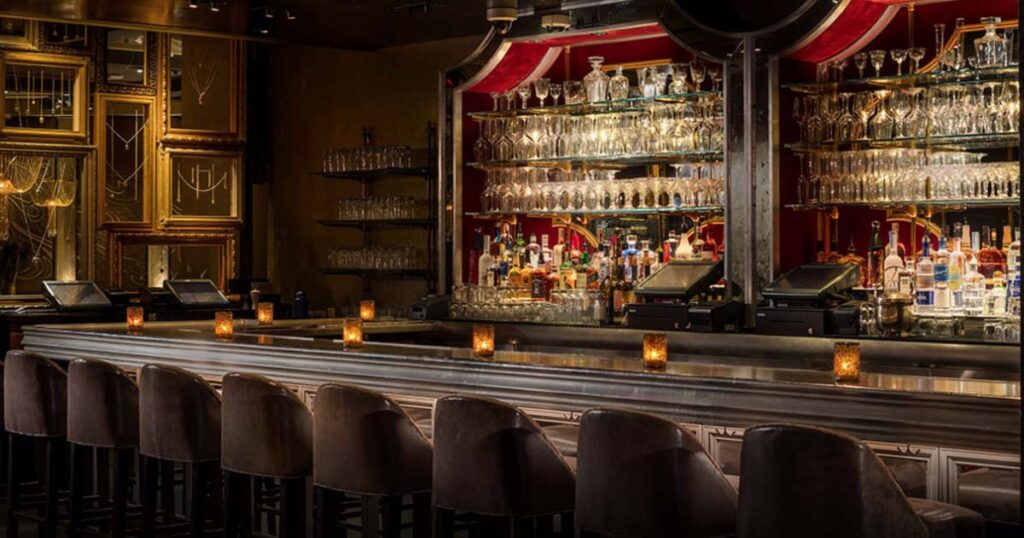 Behind the unassuming façade of a pawn shop in the Cosmopolitan lies the entrance to Beauty & Essex, a true hidden gem. Beyond the jewelry cases and wall-mounted guitars, you'll find yourself in a spacious dining room that exudes a New York feel. Chef Chris Santos has created a unique sharing plates menu that includes must-try items such as grilled cheese smoked bacon & tomato soup dumplings, chicken meatballs, and a 40-day dry-aged tomahawk ribeye.
But it's not just the food that makes Beauty & Essex stand out. The ambiance is fabulous, and the décor is simply stunning. The Wonder Wheel dessert, served on a small ferris wheel with a treat on every gondola, is a fun and unique way to end your meal.
This place has all the speakeasy vibes that Vegas is known for, making it a great spot for drinks as well as dinner. And with its location inside the Cosmopolitan, you know it's going to be glamorous.
Kitty Kitty Vice Den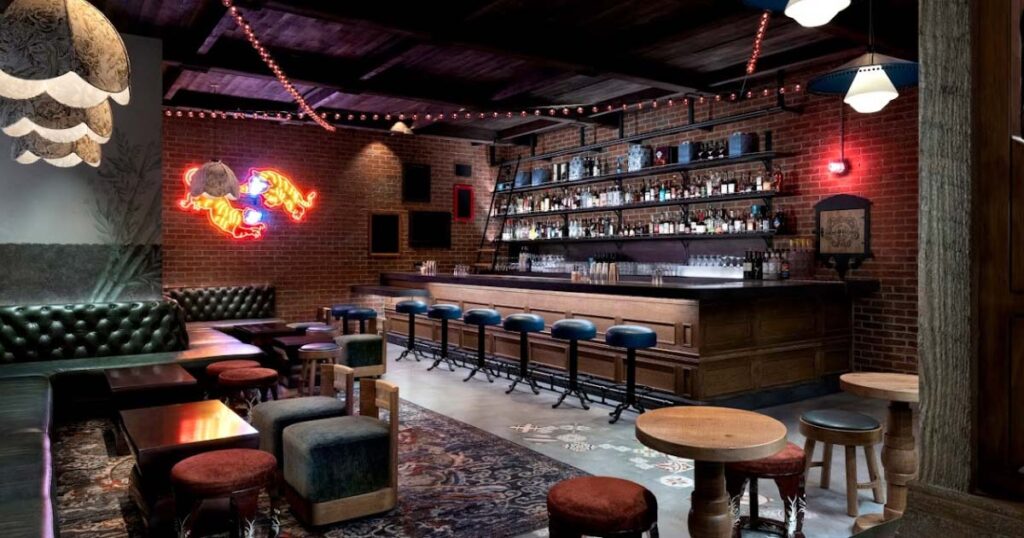 Kitty Kitty Vice Den is a hidden gem located within the Famous Food Street Eats food court at Resorts World. This flirty and entertaining speakeasy offers a unique Singaporean twist on its decor and drink menu. The atmosphere is both elegant and laid back, and it's the perfect place to escape the Vegas sun or meet up with friends for after-hours drinks.
The speakeasy offers limited seating, so it's recommended to make a reservation beforehand. Once inside, guests are transported to an elegantly grunge setting with dim lighting, lanterns, and floating dragons overhead. The music is fantastic, making for an enjoyable night out.
The drink selection is extensive, with top-shelf cocktails expertly crafted with a Prohibition-era twist. While the prices may be a bit steep, the experience is well worth it. It's important to note that there is a two drink minimum per person, so keep that in mind when budgeting.
The staff is attentive and friendly, making sure guests have everything they need. Overall, Kitty Kitty Vice Den is a fantastic speakeasy that offers a cool and unique atmosphere. It's highly recommended to make a reservation before heading over, as the space is small and can only accommodate up to 30-40 people max. To find the entrance, look for the shelves with the name FUHU Cha Chaan Teng and check in with the host at the front.
Màs Por Favor Taqueria y Tequila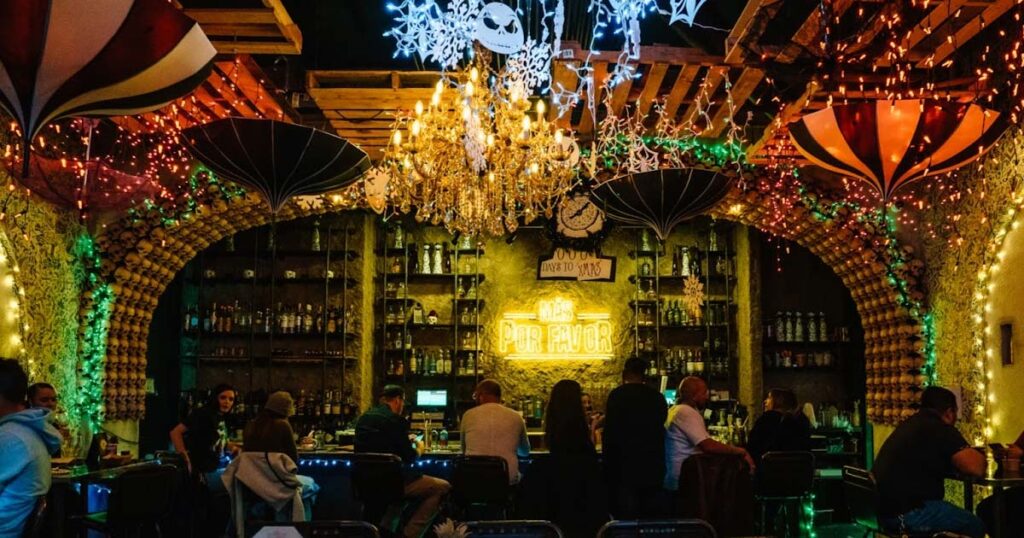 Más Por Favor Taqueria y Tequila is a unique and exciting hidden gem in the heart of Chinatown. From the outside, it appears to be a regular taqueria, but there's more to it than meets the eye. The secret hallway that leads to the speakeasy parlor is modeled after a drug tunnel, complete with bags of "cocaine" as decorations, creating an edgy and exciting atmosphere. The speakeasy itself is dark, but the vibrant colors and lively music create a fun and welcoming environment.
One of the highlights of Más Por Favor Taqueria y Tequila is its impressive selection of cocktails, which focus on tequila and mezcal. The drinks menu offers a dynamic variety of flavors, ranging from sweet and fruity to spicy and smoky. The Casamigos Margaritas, which come with house-infused jalapeno bitters, are a must-try, and the red and white sangrias are also popular choices. Some of the cocktails go down a little too easily, so be careful not to overindulge!
In addition to the impressive drink selection, the food at Más Por Favor is also worth mentioning. Guests can order the same delicious tacos sold out front, and the No-Boo combo of carne asada, truffle, and artichoke is a particular standout. For those looking for something a little different, the kitchen's take on a Frito Pie offers the option of using Doritos instead, adding a fun and playful twist to the classic dish.
The bartenders at Más Por Favor are knowledgeable and friendly, making great recommendations based on your tastes. The lively music and overall atmosphere make it the perfect spot for a night out with friends, and the cool speakeasy behind a taco restaurant adds to the excitement of the experience. Overall, if you're looking for a unique and exciting night out in Chinatown, Más Por Favor Taqueria y Tequila is definitely worth checking out.