Las Vegas, renowned as Sin City, often conjures images of high-stakes gambling, flashing lights, and shows. But beneath the glitz and glamour, a different kind of magic awaits couples seeking a touch of seduction and romance. This is where love stories are written against the backdrop of dimly lit lounges, where cocktails spark connections, and where the city's sensual side comes alive.
Join us as we voyeuristically peek in on some of Sin City's most intimate bars. Here are our favorite romantic and seductive bars that will give you your best chance for a night of romance and connection.
Herbs & Rye Bar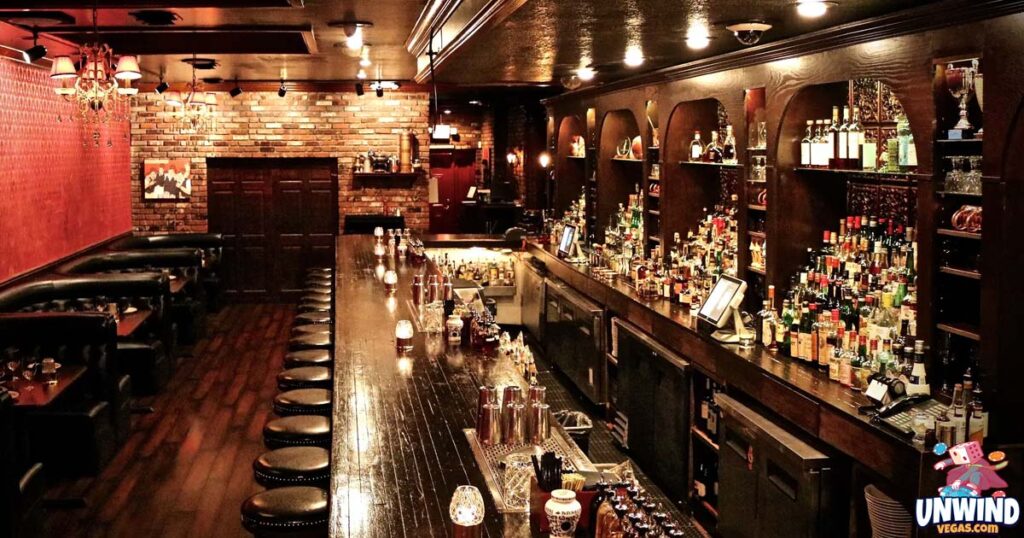 Picture this: You're cruising through the glittering streets of Las Vegas, and suddenly, you stumble upon Herbs & Rye Bar. It's like finding a hidden treasure chest; only this one is filled with tantalizing cocktails that could make even the most stoic of lovers blush. The setting? Think speakeasy meets James Bond's secret lair, with a dash of old Hollywood glamour. The menu, though, is where the real adventure begins. It's like a time machine for your taste buds, offering cocktails from bygone eras that will transport you and your date on a delightful journey through the ages. You'll find yourselves sipping and savoring, laughing and lingering, and before you know it, the night will be as unforgettable as the cocktails.
Downtown Cocktail Room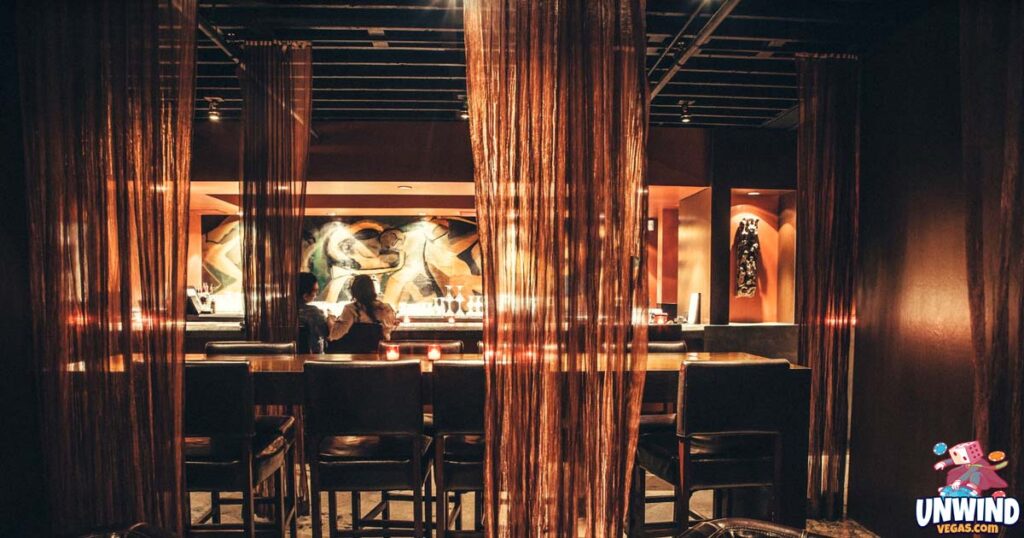 Venture into the heart of the downtown district and discover the Downtown Cocktail Room—an alluring oasis hidden in plain sight. As you step inside, you're greeted by an atmosphere that's part speakeasy, part jazz club, and entirely electric. It's like entering a world where every sip of your cocktail is a note in a seductive symphony. The dim lighting casts an enchanting spell over the cozy leather sofas, and the eclectic tunes in the background create a mood that's as mysterious as it is alluring. What's on the menu? An ever-changing roster of seasonal delights that make every visit feel like a fresh, passionate affair. It's the kind of place where sparks fly, secrets are shared, and love stories begin.
Juniper Cocktail Lounge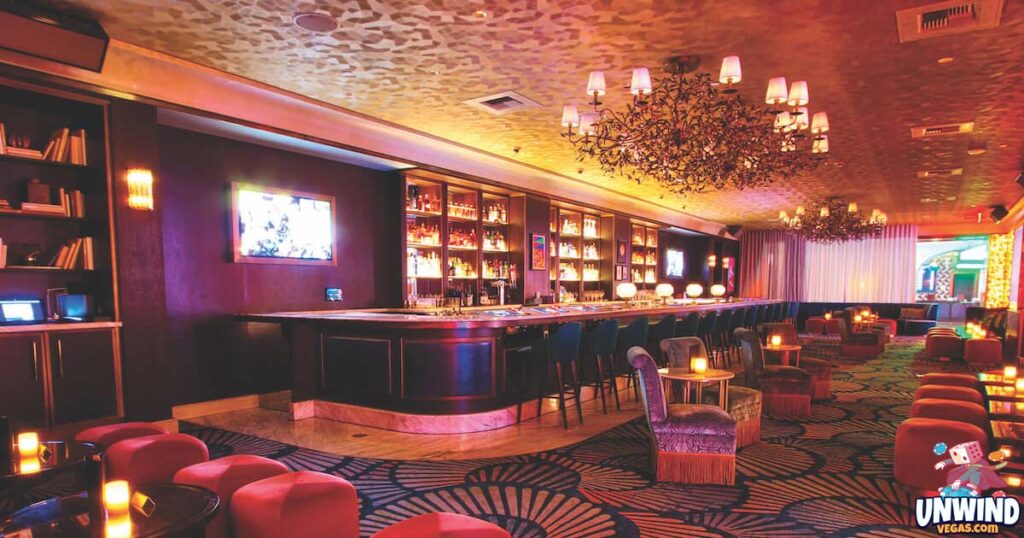 Prepare to be seduced by the sultry charms of Juniper Cocktail Lounge. It's a den of sophistication and sensuality tucked away within the Park MGM Hotel & Casino. Imagine a bar with the most extensive gin collection in Las Vegas—yes, you read that right. This isn't just a place to sip cocktails; it's a temple of mixology mastery. Every visit feels like an exclusive backstage pass to the world of craft cocktails, where the bartenders are artists, and your glass is their canvas. And as if that weren't enticing enough, the live DJ sets provide the soundtrack to your evening, turning every sip into a dance and every glance into a lingering touch. If you're in the mood for Napa Valley Chardonnay or something as indulgent as Dom Pérignon, this is the place to be. It's a rendezvous for the senses, an escape into a world where the night belongs to you and your desires.
Sand Dollar Lounge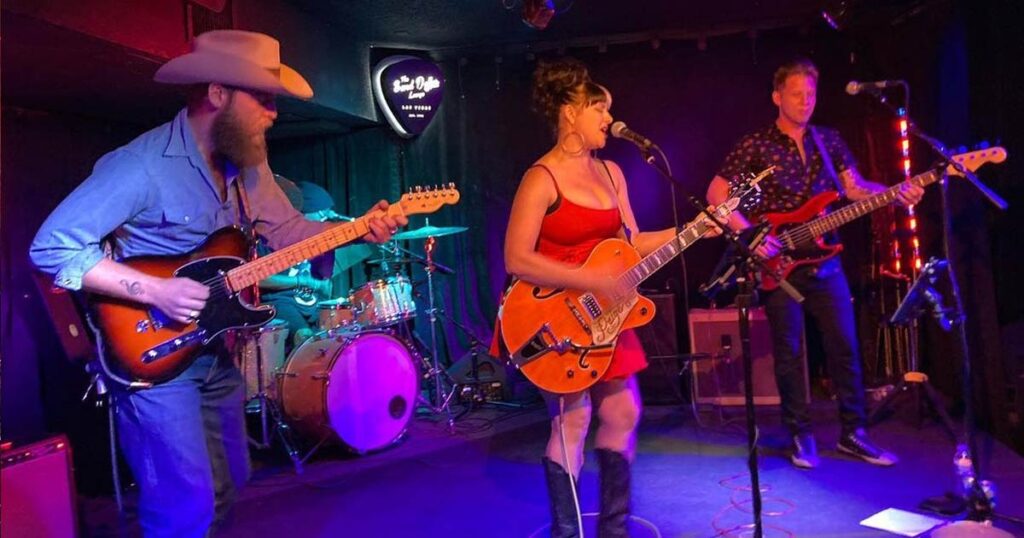 Step into the Sand Dollar Lounge, and you're not just stepping into a bar—you're entering a time machine that transports you to the golden age of live music and inventive mixology. This place has seen it all, from legendary concerts to unforgettable nights of dancing and laughter. The ambiance is pure vintage chic like you've stumbled upon a hidden gem in the heart of Vegas. But what truly sets it apart is the drink menu. Each cocktail is a work of liquid art, a concoction of creativity that tantalizes your taste buds and beckons you to explore the unexpected. With names like Peyote Queen, It Was A Good Day, and Skin-Tight Boogie, these libations are more than just drinks; they're stories waiting to be shared. Whether you're grooving to the live music or savoring a drink that's as bold and fun as its name, Sand Dollar Lounge promises a night of unforgettable fun and delightful surprises.
Frankie's Tiki Room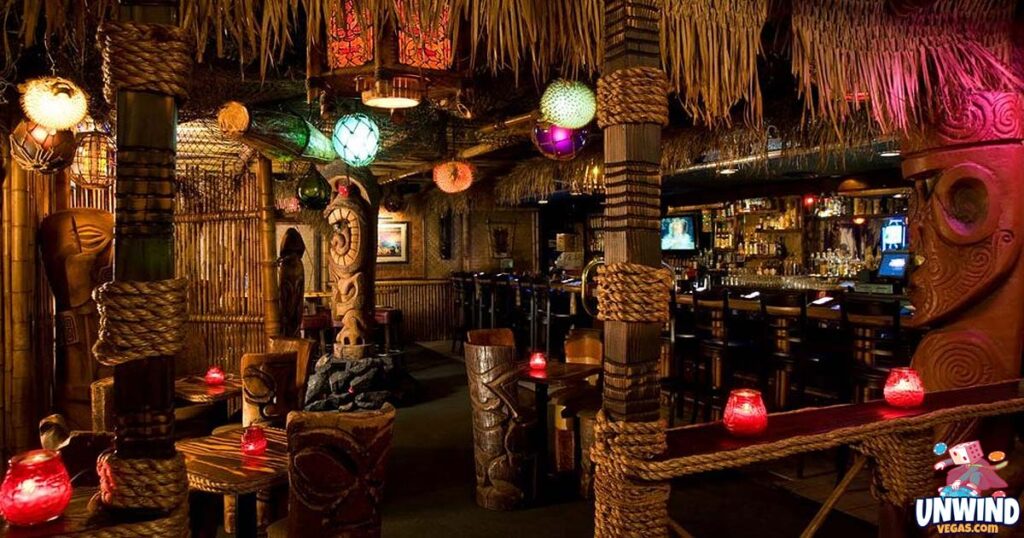 Frankie's Tiki Room isn't just a bar; it's a portal to a tropical paradise tucked away in the heart of the desert—step inside, and you're instantly surrounded by the whimsical wonders of tiki culture. The décor is a vibrant blend of Polynesian and retro vibes, with every corner revealing intricate artwork and carvings that tell tales of distant islands and exotic adventures. The ambiance is as carefree as a beachside bonfire, with funky tunes that transport you from exotica to surf, psychobilly to garage. But it's the cocktails that steal the show. Each one is a liquid escapade, a journey to far-off shores without ever leaving your seat. Whether you're sipping on the Lava Letch with demon rum or diving into the Nakalele Knockout with rum, hibiscus, and lime, every drink is a ticket to an island soirée with friends or a romantic rendezvous that feels straight out of a tiki-themed love story. Frankie's Tiki Room is where Vegas meets the tropics, where every cocktail is a mini vacation, and every night is an adventure waiting to happen.
The Laundry Room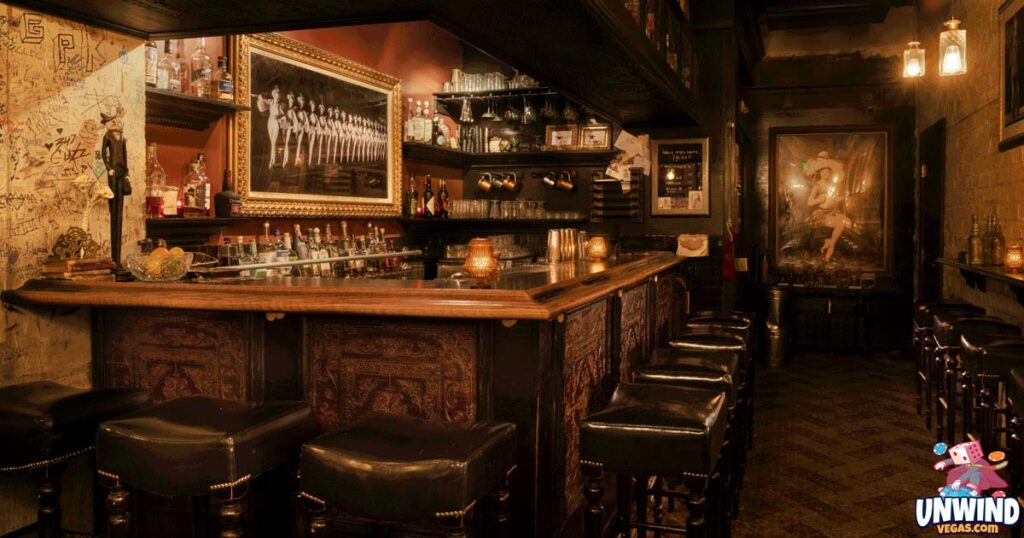 Prepare to be mystified by The Laundry Room—a hidden gem, a speakeasy, and a cocktail lover's dream all rolled into one. With a capacity for just 22 guests, this place is as exclusive as it gets. It's like stumbling upon a secret society for cocktail lovers. The cocktails here aren't just drinks; they're elixirs crafted with the precision of an alchemist. The bartender is your personal mixologist, and they're not just making drinks; they're crafting experiences. You can tell them your flavor preferences, and they'll conjure a cocktail tailored to your desires, a libation as unique as your connection. The atmosphere is elegant yet cozy, making it the perfect hideaway for those moments when you want to escape the high-energy buzz of the Strip and savor the art of mixology in its purest form. In The Laundry Room, you're not just having a drink; you're embarking on a journey, an adventure in liquid form that's as intoxicating as it is unforgettable.
The Mayfair Supper Club at Bellagio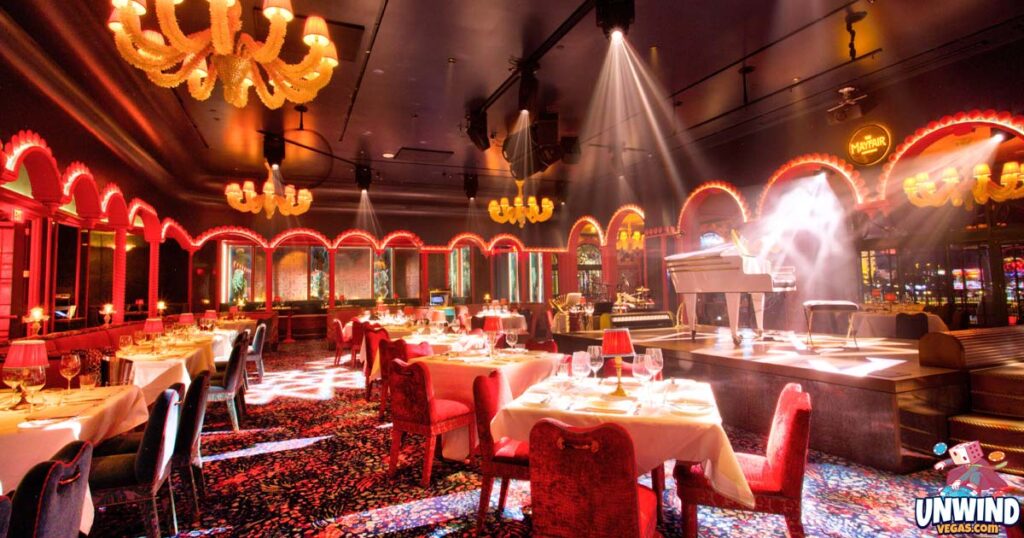 The Mayfair Supper Club at Bellagio isn't just a bar; it's an invitation to a bygone era of glamour and sophistication. While the supper club exudes an old-school charm that's hard to resist, we recommend heading straight to the lounge area for an unforgettable evening. Imagine yourself perched at the bar, where the ambiance is reminiscent of the classic Vegas you've seen in movies. The menu is a treasure trove of indulgence, featuring champagne, wine, and cocktails that are as classic as they are creative. But it's the champagne cocktails that steal the show, effervescent elixirs that tickle your senses and transport you to a world of timeless elegance. The ambiance alone will transport you and your sweetheart to an era when Vegas was all about glitz, sophistication, and the thrill of the night. It's where the past meets the present, where every drink is a toast to the magic of Las Vegas.
Alle Lounge on 66 at Resorts World Las Vegas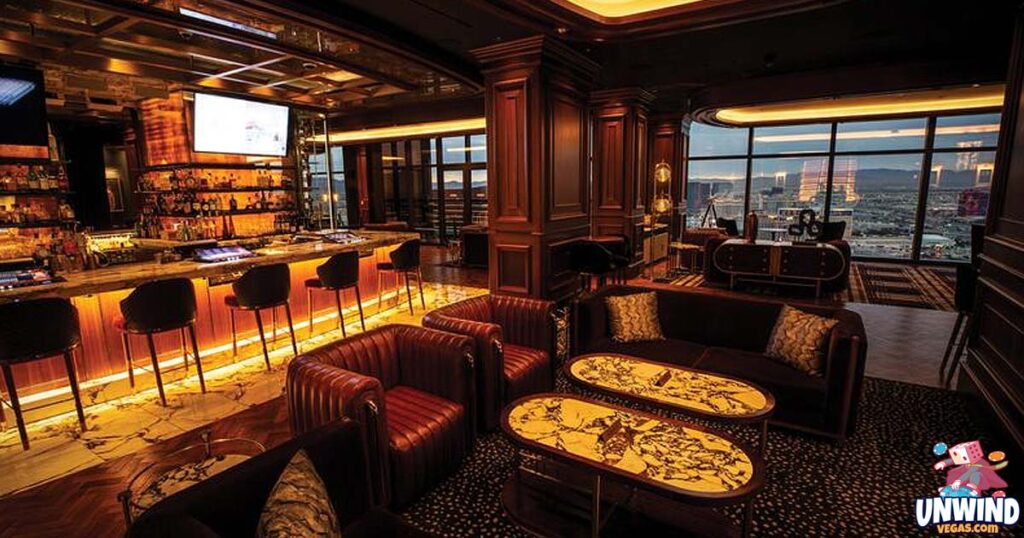 The Alle Lounge on the 66th floor is more than just a bar; it's an extravagant escape that takes you to the heights of opulence. As you step inside, you'll feel like you've entered a penthouse in the heart of New York City. The sleek design, the floor-to-ceiling windows with panoramic city views—it's all about luxury and indulgence. If you're in the mood to splurge, Alle on 66 is the place to do it. They offer rare bottled brown spirits that make even the most discerning connoisseur swoon. The menu doesn't stop at drinks; it includes elevated bar-food options like oysters on the half shell and wagyu sliders, perfect for indulging your palate. Live jazz and contemporary music provide the soundtrack to your night, turning your visit into an experience that's as lavish as it is memorable. At Alle Lounge on 66, you're not just drinking; you're living the high life, indulging in the finest spirits and savoring every moment.
The Shag Room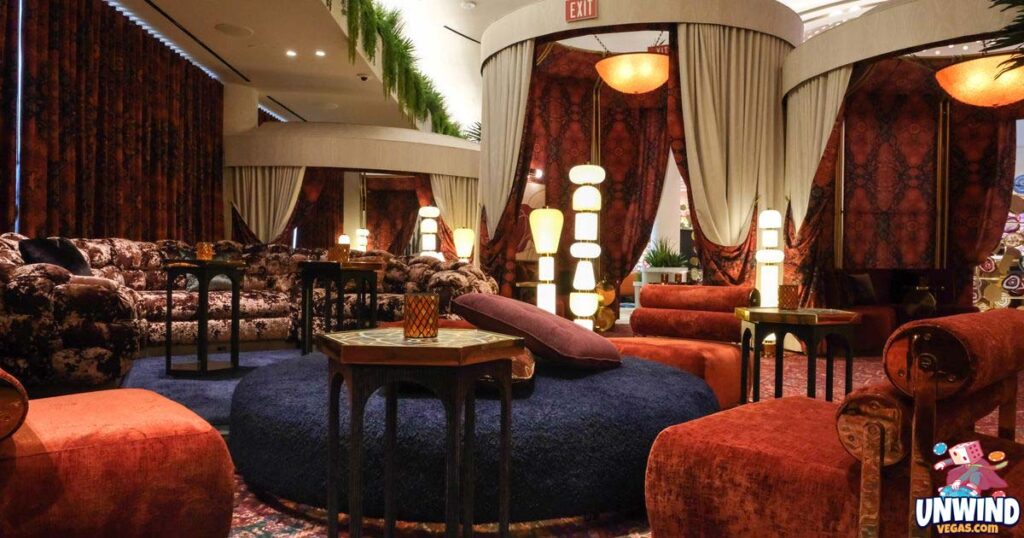 Oh, The Shag Room—where the name alone promises a night of playfulness and pizzazz. Step inside, and you'll find yourself in a realm of bohemian-meets-Arabian nights-meets-Moroccan décor. It's like entering a setting straight out of a chic and funky dream. The ambiance is relaxed, visually striking, and the kind of place where you can't help but smile. Delicious bourbon and specialty cocktails flow freely, and the live music sets the stage for a night of laughter and entertainment. From open-mic nights during the week to live music on the weekends, The Shag Room is where you go when you're ready for a night of fun and spontaneity. It's not just a bar; it's an experience that's as vibrant and memorable as the city itself.

So, whether you're celebrating to a milestone anniversary, planning an unforgettable date night, or simply chasing adventure with your special someone, Las Vegas unveils a world of intimate bars where sparks fly, and hidden desires ignite. In this city where secrets are shared over seductive sips, you'll find your own private haven for passion and connection. And always remember, what unfolds in Vegas, remains a tantalizing secret in Vegas.