We love live music, but in Las Vegas it's sometimes hard to find! While the city is filled with headline acts and so-called headliner residencies, real live music from real bands is all we really care about. So if you are like us and deplore the overproduced, pop-crap that is shoved down our throats and instead prefer raw, live music from people who are really playing and singing, then have no fear we have you covered!
Here are the top places to see live bands in Las Vegas
The Dive Bar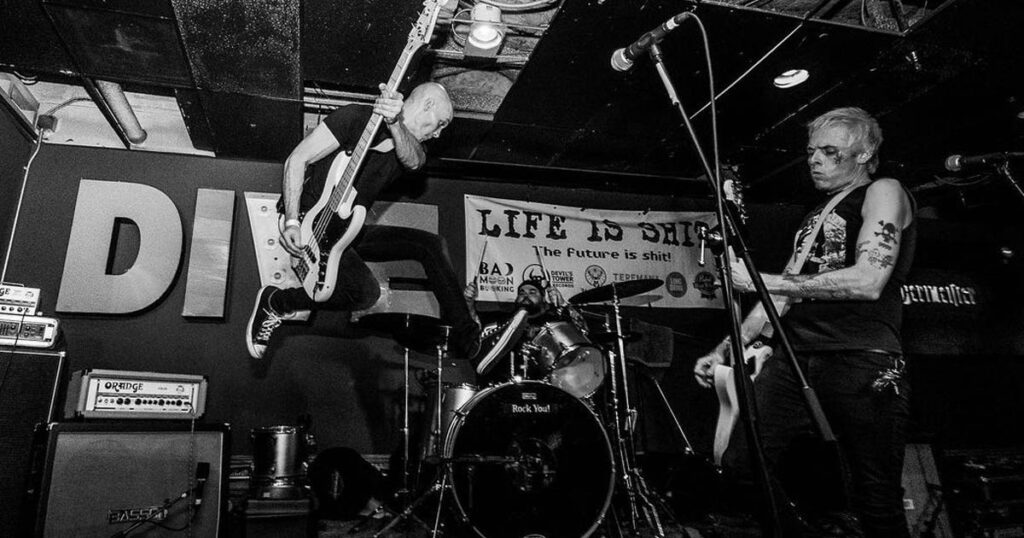 Shithole? YES. Disgusting? Most of the time! But if you are looking for bands that no other bar in Las Vegas will dare let in the door, then the Dive Bar will probably be the answer. From Punk, metal, and shit that is just downright bizarre to outlaw country and even some burlesque and comedy shows, the Dive Bar is an experience everyone should have at least once!
Address: 4110 S Maryland Pkwy, Las Vegas, NV 89119 Hours:
Hours: Open 24 hours
Website: https://www.instagram.com/the_dive_lv/
Double Down Saloon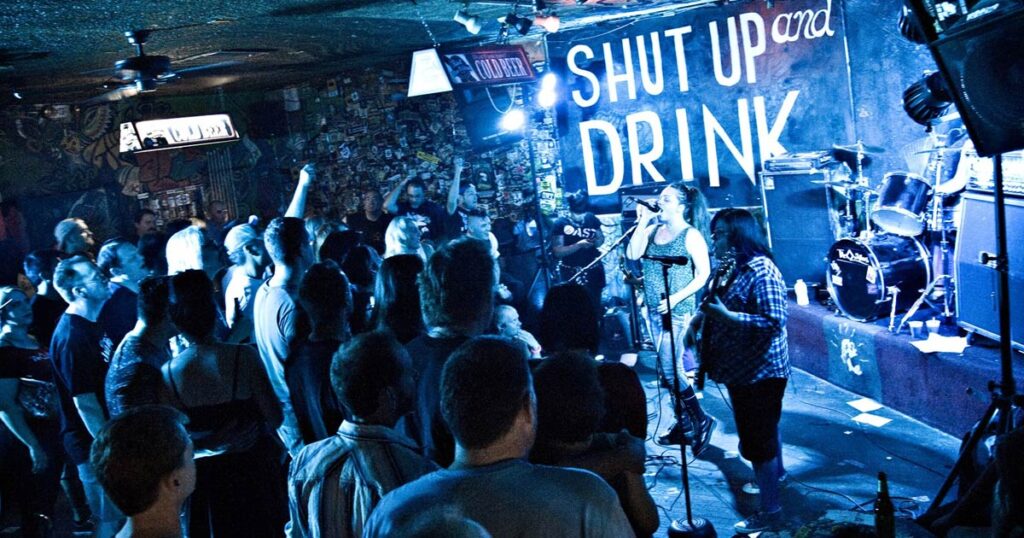 Yes, they really do serve a drink called Ass Juice!
Promoted as the Happiest Place On Earth for the lunatic fringe, The Double Down Saloon has been part of the Las Vegas music scene since 1992. The Double Down is mostly known as a punk rock bar, but they occasionally bring in some Rockabilly, surf, outlaw country and metal acts.
Address: 4640 Paradise Rd, Las Vegas, NV 89169
Hours: Open 24 hours
Website: https://doubledownsaloon.com/
Red Dwarf – Booze Music Pizza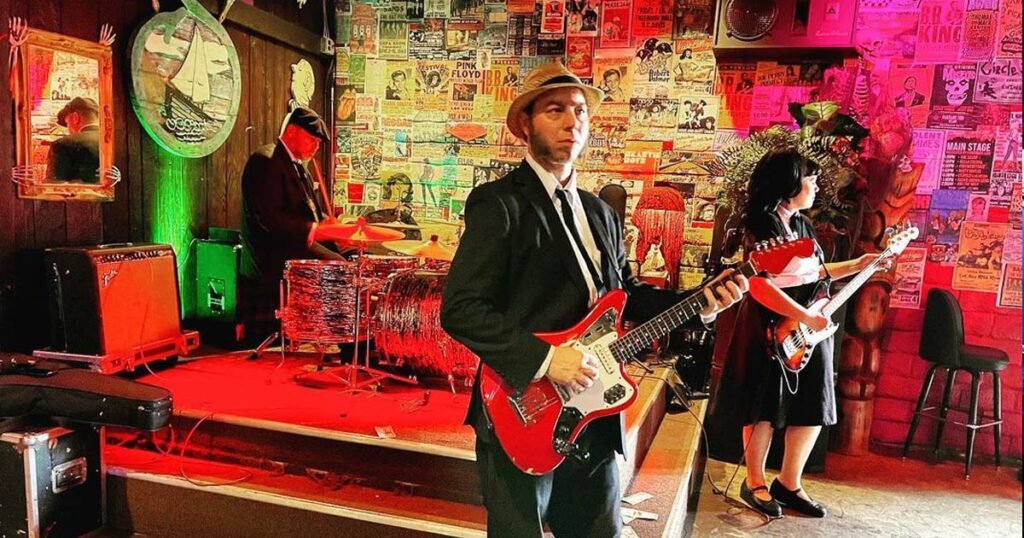 From Live Surf/Rock music to Rockabilly and burlesque, the Red Dwarf is part tiki bar, part dive bar and a shit load of fun! Red Dwarf offers numerous craft beers, tiki-inspired cocktails and some of the best Detroit-style pizza in town — ALL AT DIVE BAR PRICES!
Address: 1305 Vegas Valley Dr, Las Vegas, NV 89169
Hours: Open ⋅ Everyday 11am -1am
Website: reddwarflv.com
The Sand Dollar – Chinatown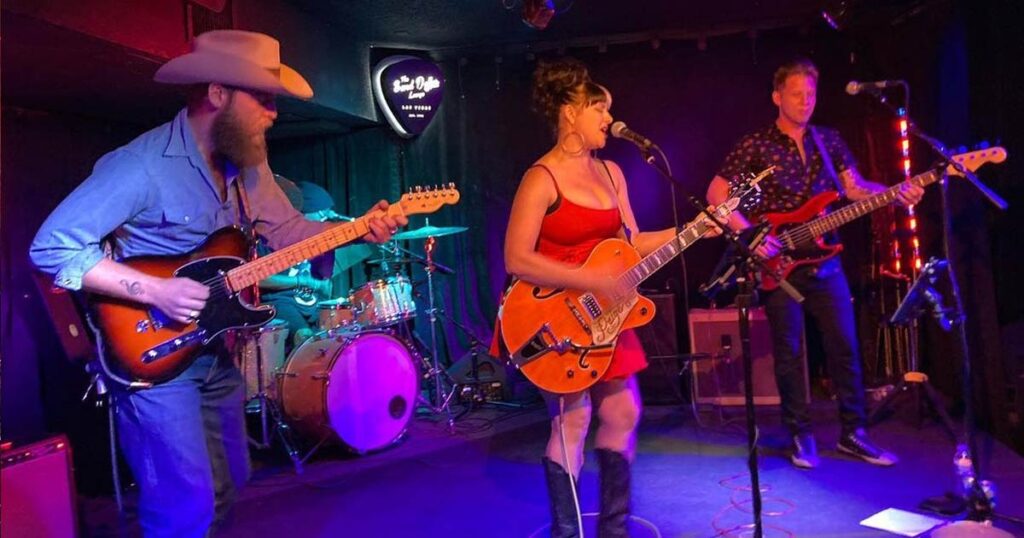 In 1976, the Sand Dollar Blues Bar opened its doors in the area now known as Chinatown. Some of the greatest blues legends, as well as many other famous musicians graced the stage for over 30 years. People like Muddy Waters, B.B. King, and even Mick Jagger would swing into the Sand Dollar when they were in Vegas. Resurrected in 2009, the Sand Dollar has stuck to its blues roots but also features local rock, country and jazz bands.
Address: 3355 Spring Mountain Rd, Las Vegas, NV 89102
Hours: M-F 4PM – 4AM | Sun 8PM – 4AM
Website: https://thesanddollarlv.com/lounge/
The Sand Dollar – Downtown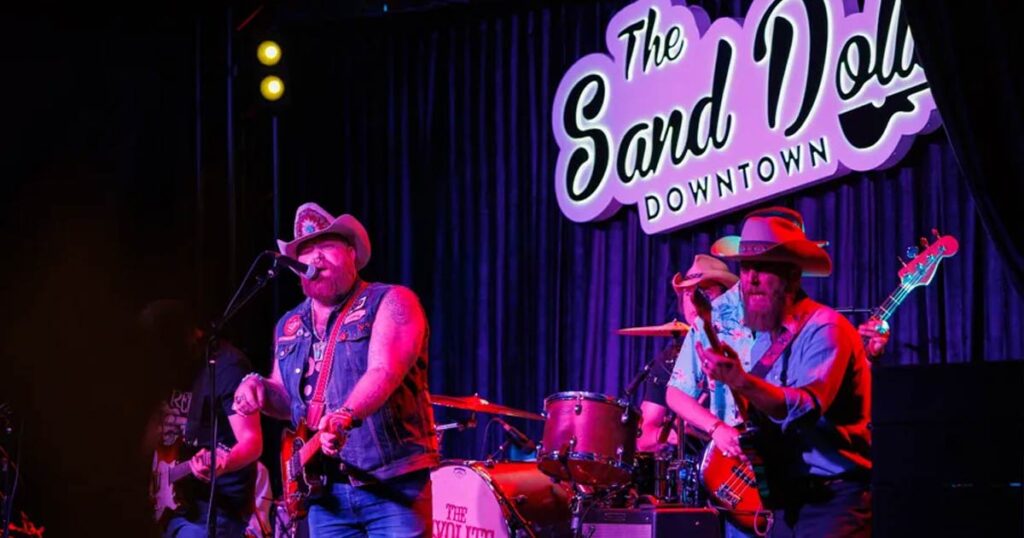 Honoring the tradition and history of the iconic Las Vegas venue, The Sand Dollar Downtown recently opened inside of the Plaza Hotel and Casino in Downtown Las Vegas. Since opening they have featured larger acts like Billy F Gibbons of ZZ Top and John Popper of Blues Traveler, but nightly you can expect everything from local bands and national headliners playing blues, rock, traditional country, and a little bit of everything in between.
Address: Plaza Hotel & Casino 1 N Main St, Las Vegas, NV 89101
Hours: Everyday
Website: https://thesanddollarlv.com/downtown/
Soulbelly BBQ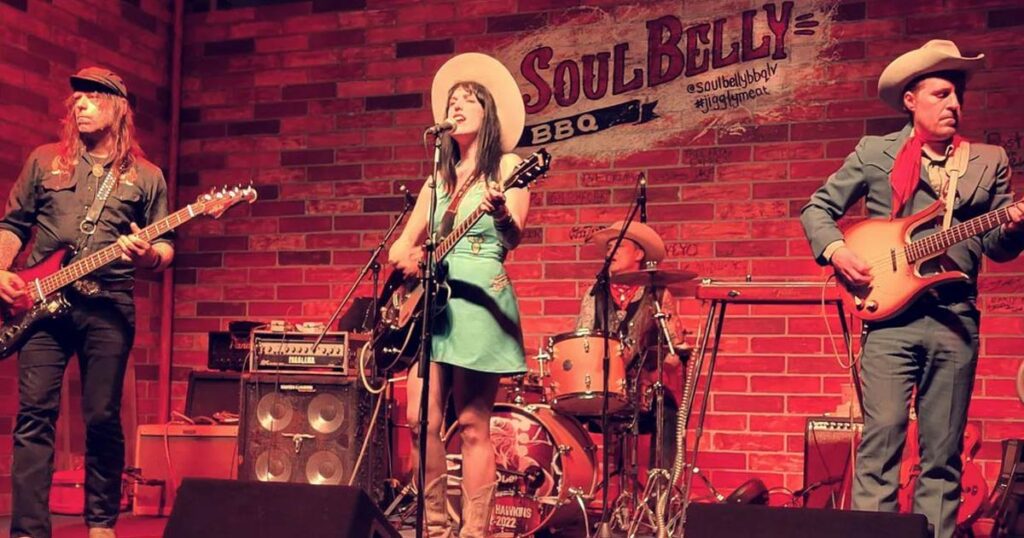 Soulbelly is a local BBQ joint run Chef Bruce Kalman in the 18b arts district. Chef Kalman is the frontman in the chef cover band, Foie Grock, with fellow chef Duff Goldman so when he opened up in Las Vegas he made sure his restaurant and bar was built around live music. From local bands to national acts, Soul Belly always has something worth watching.
Address: 1327 S Main St, Las Vegas, NV 89104
Hours:WED 11AM – 10PM | THUR, FRI, SAT 11AM – 11PM | SUN, TUE 11AM – 9PM
Website: https://soulbellybbq.com/
Bars With Live Music On The Las Vegas Strip
A word of warning, the Las Vegas Strip will most likely be hit and miss. At one time, almost every casino on the strip had a lounge and bar with live music — sadly, that is becoming harder and harder to find. Now that we got our disclaimers out of the way, here are the places we still end up staggering into while drinking and having a night of uninhibited debauchery on the strip…
Losers Bar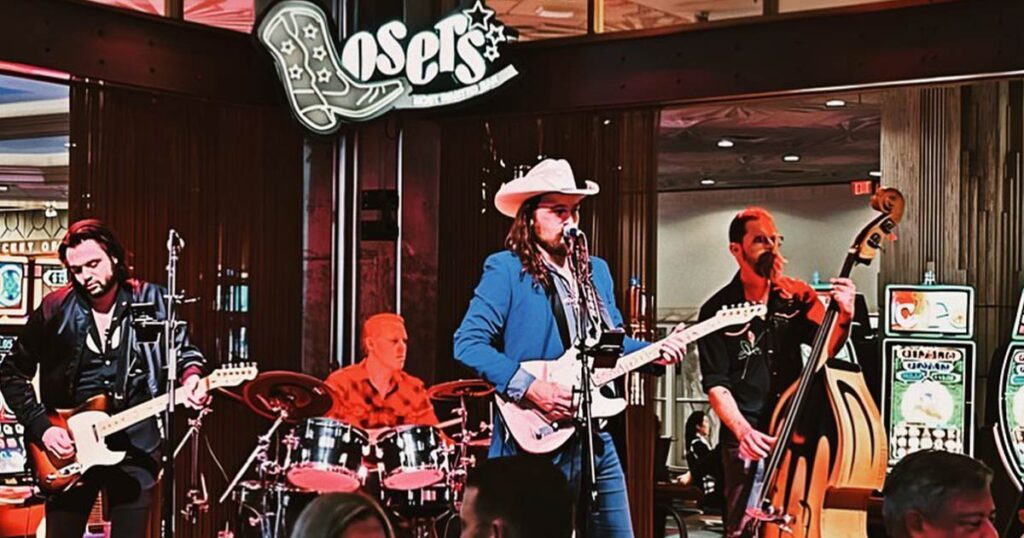 Losers bills themselves as the only spot on the Las Vegas Strip where you'll find live performances from Nashville country artists daily. While Nashville pop country isn't really our thing, they have started to bring in more local and traditional country acts lately so it might be worth checking out their calendar to see who is playing!
Address: MGM Grand 3799, S Las Vegas Blvd, Las Vegas, NV 89109
Hours: Hours very but usually somewhere around 3PM – 3AM
Website: https://www.losersbarlasvegas.com/
Dawghouse Saloon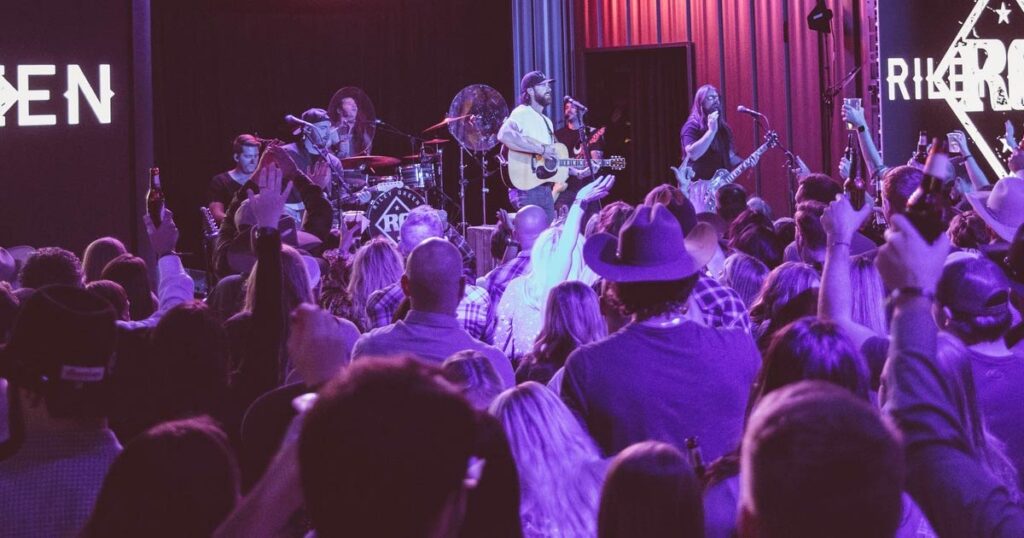 From rock and country acts to dueling pianos, the Dawghouse at Resorts World features nightly live music acts.
Address: Inside Resorts World at 3000 S Las Vegas Blvd, Las Vegas, NV 89109
Hours: Sun-Thurs 7am-1am Fri-Sat 7am-2am
Website: https://www.dawghouselasvegas.com/
Stoney's Rockin' Country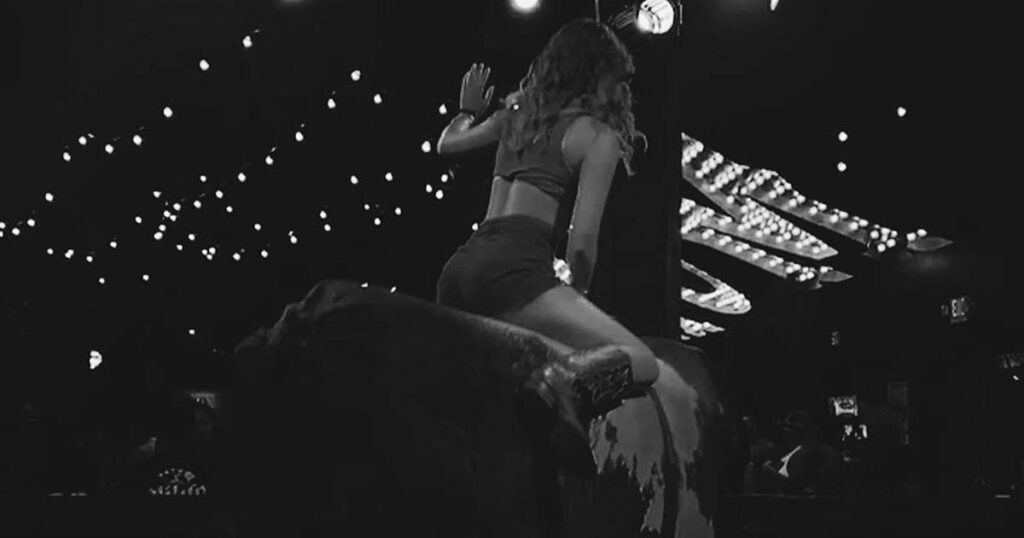 Okay, it's not technically on the "strip" but it is on Las Vegas BLVD., and they do offer live music and line dancing on the weekends. It is mostly pop country — occasionally, some traditionally country acts — but they do have a mechanical bull and girls in chaps so, you know! They are also in the process of opening a Northwest location in the Sante Fe Station that will feature nightly live bands.
Address: 6611 Las Vegas Blvd S #160, Las Vegas, NV 89119
Hours: Thurs-Sat 7 PM–1 AM
Website: https://stoneysrockincountry.com/
Other Spots on the Las Vegas Strip that feature Live Music
Piano Bar at Harrah's: Free live music on the Strip. Everything from Dueling Pianos to Fat Elvis!
Carnival Court at Harrah's: Situated between Harrah's and the LINQ, the outdoor bar features live cover bands.
Gilley's at TI: A western-themed bar that offers free live music nightly including line dancing and Bluegrass on the weekends.
The Barbershop at Cosmopolitan: To be honest we almost didn't include this one, but we have seen some good bands here. Just know you will be raped on the cover charge and then raped again for the drinks inside!
Nine Fine Irishmen at NYNY: They have a house band that plays a mix of traditional Irish music, wild electric jigs & reels and classic sing-along songs
House of Blues at Mandalay Bay: Live music from genres that span the spectrum from DJs to Hip Hop, Jazz, Country, and Rock. Usually larger ticketed shows so be aware of that!
Brooklyn Bowl Las Vegas: Usually ticketed shows, but you can usually snag some at the door.
Eastside Lounge at the Encore: Live dueling pianos at 9:30pm nightly.
Bars With Live Music on Fremont Street
Fremont Street Experience: 3 stages that feature nightly live music along the Fremont Street Experience. Ussually local cover bands, but occasionally there are also national acts that drop in for the free shows.
Backstage Bar & Billiards: Backstage Bar & Billiards hosts a variety of live music acts.
Hennessey's Tavern: Hit and miss, but they do offer live music a couple of times a week.
Downtown Container Park: Outdoor free live music on their events stage on the weekends.
Big Bang – Dueling Piano Bar: Open Thursday – Saturday on Fremont Street inside of Dick's Last Resort.