A Weed-Friendly Hotel??? The Artisan is going up in smoke!
The Artisan, a boutique hotel that is known by locals for being an adult lifestyle-friendly hotel, is undergoing a multi-million-dollar renovation. The legendary Artisan Hotel Boutique is transforming into The Lexi – a new 64-room hotel concept that will be the first in Las Vegas to introduce the idea of cannabis-friendly hospitality.
Now under the leadership and ownership of Elevations Hotels and Resorts, The Lexi is the brainchild of Elevations president and CEO, Alex Rizk. Having already cultivated the cannabis-forward hospitality experience with his first undertaking, The Clarendon Hotel in Phoenix, Rizk says he is excited for The Lexi to shine as the flagship property of his fast-growing hospitality group.
"The Lexi allows the Elevations Hotels and Resorts brand to truly showcase our commitment to creating a new type of hotel concept that is defined not only by our acceptance and normalization of cannabis in the hospitality space but also by our dedication to reclaim storied properties and transform them for the modern-day travelers," notes Rizk.
Elevations Hotels and Resorts says the Lexi will feature all-new guest rooms and suites, including an entire fourth floor that will be designated cannabis-friendly, with each room featuring a state-of-the-art RestorAir filtration system that employs Advanced Oxidation Cell (AOC) technology. While normalizing the idea of cannabis in travel, The Lexi is focused on creating a premium hospitality concept for all guests with a promise of delivering personal and superior service, along with a delicious and inspired culinary and cocktail program, and launching a spring/summer pool party season that is designed to provide a high-energy good time.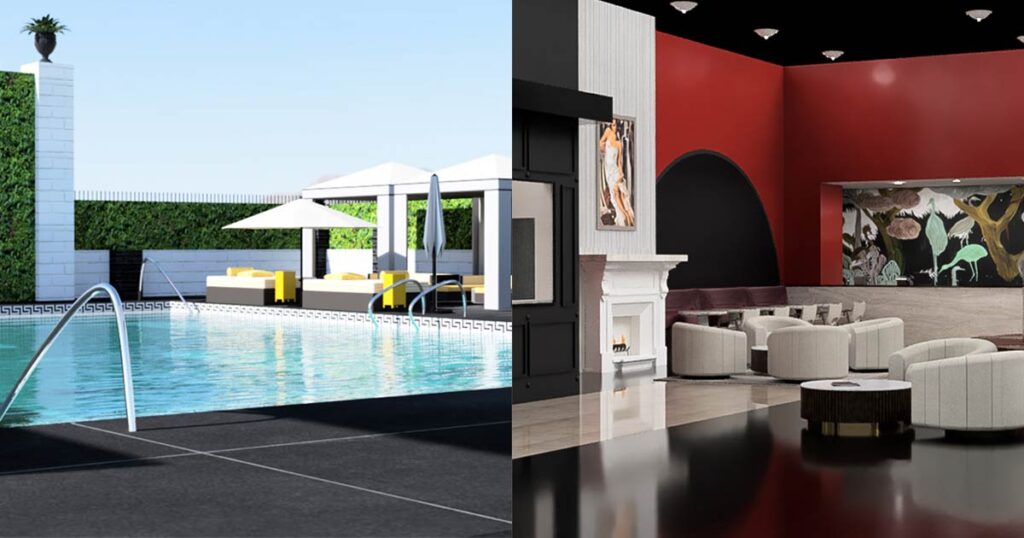 The Lexi is expected to open this spring fully.
The Lexi will be home to a new Cajun-inspired steakhouse concept helmed by Executive Chef Jordan Savell ("Hell's Kitchen" Season 19); the redesigned Artisan Bar & Lounge; The Lexi Pool (a European-style pool experience); and the remodeled Chapel Room. Additionally, The Lexi sports a refreshed lobby designed to transform for live music and intimate entertainment concepts. The lobby will include a new walk-up café offering breakfast, late-night treats, and cocktails.