In a bizarre story that we are breaking here on UnwindVegas.com, a Las Vegas family is claiming that they are at the center of an otherworldly mystery, saying two 8-10 foot aliens crashed a UFO in their backyard and Las Vegas Police are taking them seriously!
What started as a regular night took an unexpected twist when something crashed into their backyard, leading them to make an urgent emergency call to 911. While alien sightings are often met with skepticism, this incident caught the attention of multiple witnesses and even an officer who saw something fall out of the sky, leaving even the most skeptical among us questioning what the hell happened in Las Vegas.
The dispatcher sent a pair of officers to the Las Vegas home. The screenshot is from body camera footage.
Caller: There's like an 8-foot person beside it and another one is inside us and it has big eyes and it's looking at us — and it's still there," the caller told a dispatcher.
Dispatcher: OK, where is this on your property?
Caller: In my backyard. I swear to God this is not a joke, this is actually — we're terrified.
Dispatcher: So, there's two people, there's two subjects in your backyard?
Caller: Correct and they're very large. They're like 8 foot, 9 feet, 10 foot. They look like aliens to us. Big eyes. They have big eyes. Like, I can't explain it, and big mouth. They're shiny eyes and they're human. They're 100% not human.
Dispatcher: OK.
"I'm so nervous right now," one officer said as he is preparing to drive to the house. "I have butterflies bro — saw a shooting star and now these people say there's aliens in their backyard." "I'm not going to BS, you guys. One of my partners said they saw something fall out of the sky, too," the officer said. "So that's why I'm kind of curious. Did you see anything land in your backyard?"
A Close Encounter of the Las Vegas Kind?
On May 1st in the midle of the night, an officer from the Las Vegas Metro Police saw a streak of light flash across the sky. The light was reported throughout Nevada and even captured on a number of Ring Doorbell Cams.
Reports flooded in from people across eastern California, Nevada, and Utah, all claiming to have witnessed the huge flash. With curiosity piqued, Las Vegas investigators sought to uncover the truth behind the otherworldly phenomenon.
The event was even captured and reported by the American Meteor Society and reported as a Fireball event in the sky across multiple states.
Approximately 40 minutes after the incident, a call was made to 911, where the local family claimed to see an unidentified object and non-human entities in their backyard. They claimed the presence of two towering figures, measuring 8 and 10 feet tall, with distinct alien features, and enormous eyes.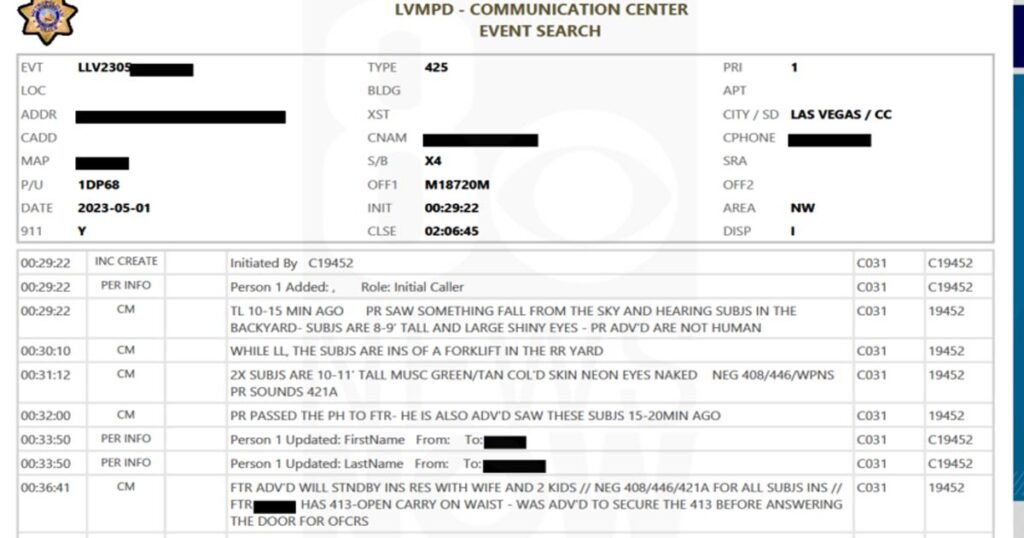 Two officers were sent by a Las Vegas Metro police dispatcher to the home for investigation. The image above is from the official report.
The incident remains a mystery with no answers from local military or the Pentagon. But this isn't the first time aliens have choose to visit Las Vegas, just a couple months back we caught them hovering over a local strip club!